Barrel Barbecue Smoker, our oil drum bbq can now be used as a smoker

The Oil Drum Smoker BBQ is the perfect accompaniment to your garden party.

Big enough to serve up to 30 plus people, you'll have people flocking round for the authentic taste of chargrilled food.
Airflow is circulated from left to right when the lid is closed, this airflow can be regulated by sliding the horizontal vent to the required position, it is best practice to have the fire / smoke on the right hand side under the hotplate and the food to be cooked / smoked on the left hand side so that the smoke and hot cooking gases pass the food.
Available in BLACK to order £349.99 including UK mainland delivery.
BBQ orders now being taken, Print out this order form and send it with your cheque payment, we can now also accept direct (bacs payment) just email your delivery address & a contact number, we will reply with our details
Normal delivery two days if using direct transfer (bacs payment) but it does depend on demand. Please don't leave ordering until the sun comes out, because every man and his dog has the same idea.
Ask a question that's not already answered on this page tel The BBQ Man 07783438240 E Mail sales@Barrel-Barbecue.co.uk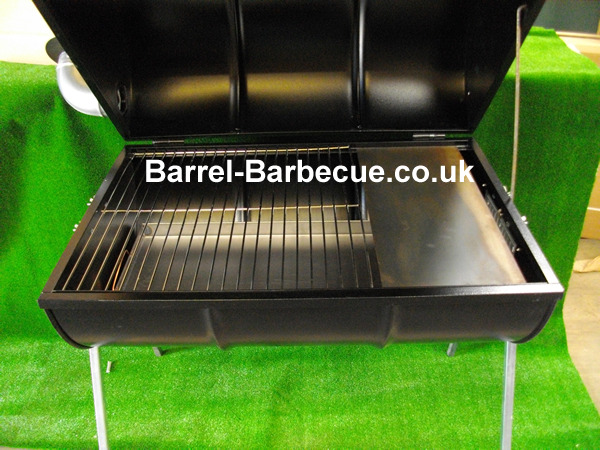 Barrel Barbecue Smoker Chimney, this allows cooking with the lid closed and allows the smoke and hot gasses to escape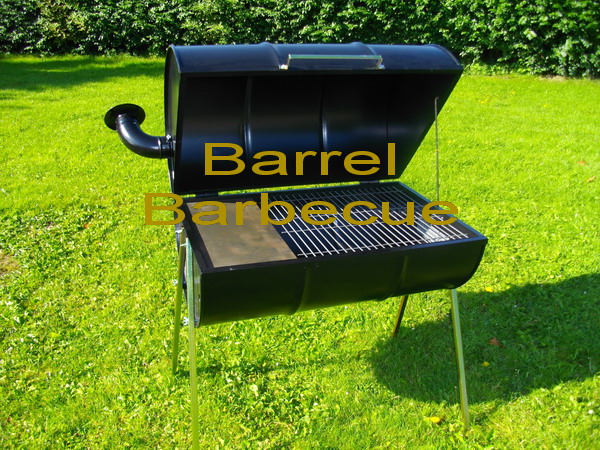 Grill is not chrome